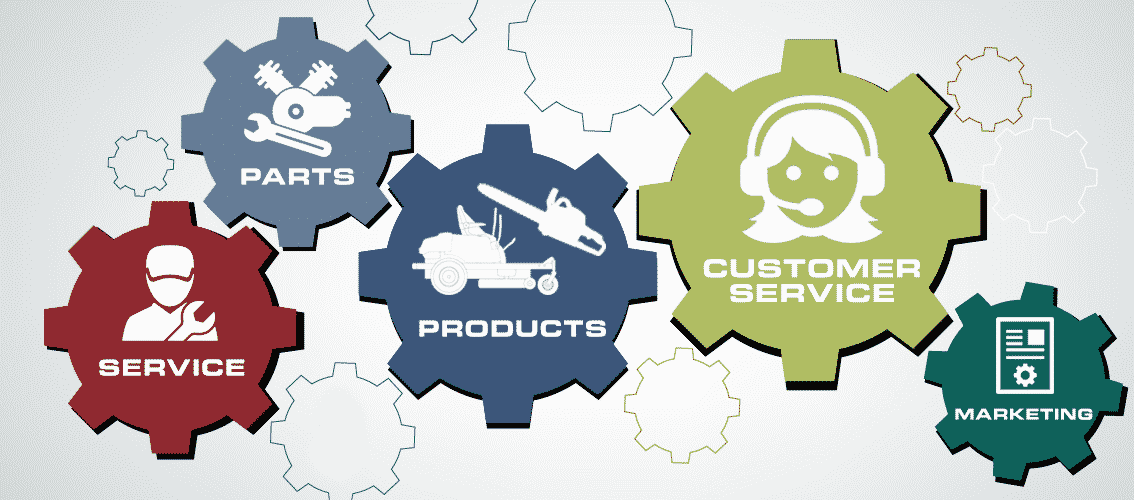 Why partner with us?
At Carswell our success depends 100% on our dealers success. We strive to offer top of the line customer service, diverse marketing materials, and the best brand offerings for outdoor power equipment available. Our team stands behind our products and the quality of work they provide. We drive customer success with creativity, trustworthyness, and the ability to fulfill our customers needs whatever they may be.

Marketing:

• Unique POP Items
• Social Media Options
• Hang Tags and more

Parts & Support:
• Service parts
• Parts look-up tool
• Customer support for parts look-up
• Manuals & More

Service:
• Over 50 years combined experience
• Factory trained and certified staff
• Provide service school for products/brands

Winston Salem, NC
Situation
An entrepreneur and an experience lawn & garden store manager wanted to open a lawn & garden shop in Winston-Salem, NC.
Service Provided
Carswell provided the equipment lines, such as Bob-Cat commercial mowers and Red Max hand-held equipment, necessary to offer the right product mix to customers. Carswell delivered the equipment set-up for opening day and provided extensive point-of-purchase display materials. Carswell provided support for advertising and promotional programs.
Outcome
Forsyth Mower Works is the commercial lawn & garden market leader in the Winston-Salem market.
Goldsboro, NC
Situation
An experienced Outdoor Power dealer was looking for a way to expand their product offering and adding a new line. Rosewood was undecided in which brand or products would best fit their area..
Service Provided
Carswell provided the brand selection of Big Dog and their zero-turn mowers as a good fit for the location as well as for the dealer. We also assisted them with product choices and product display setup.
Outcome
Rosewood Hardware became one the largest Big Dog dealers in the Eastern North Carolina Territory. We continue to keep them up to date on the new features and new products from the brand and other brands that enhance their offering such as BOB-CAT, Jonsered and Redmax to keep them growing.
Union, SC
Situation
An entrepreneur was interested in getting into the outdoor power equipment business but wasn't sure where to start in the process.
Service Provided
Carswell helped him with product and brand selection for his area, assisted with getting a credit line setup, and also helped with displays and the overall look of the products.
Outcome
Gault Small Engine has become one of the best outdoor power equipment dealers in the Union, SC area and we continue to work with them on ways to help grow their business.
Dealer outside of North Carolina
Are you a North Carolina dealer?
Get the ball rolling today - fill out this form and we can help you get up and running!
More Info
Partner with us if you are looking for a better furture.
Address: 3750 N. Liberty Street
Winston-Salem, North Carolina 27105
Phone: 800.929.1948
Business Hours: 8a-5p M-F